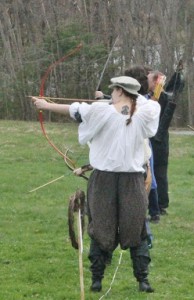 Archery in the SCA comes in two forms – Target Archery and Combat Archery. Both groups promote the enjoyment and practice of archery in the barony, study the practices, equipment and standards of archery during the period covered by the SCA, and trains archers so they may assist in the defense of the barony. General archery practices are held at various locations and times in the barony and cantons. We shoot bows and crossbows, and we can provide loaner equipment to get you started, show you how to choose the best equipment for you, and even teach you how to make your own arrows.
Target Archery takes place by appointment at the home of Peter the Red and Arlyana van Wyck in Carlisle, and at the home of Ygraine of Kellswood and Li Kung Lo in Natick by appointment. Please see the Baronial Calendar or reach out to one of the above for details.
For more information, you can contact the Archery Marshal for the barony or see the below options.